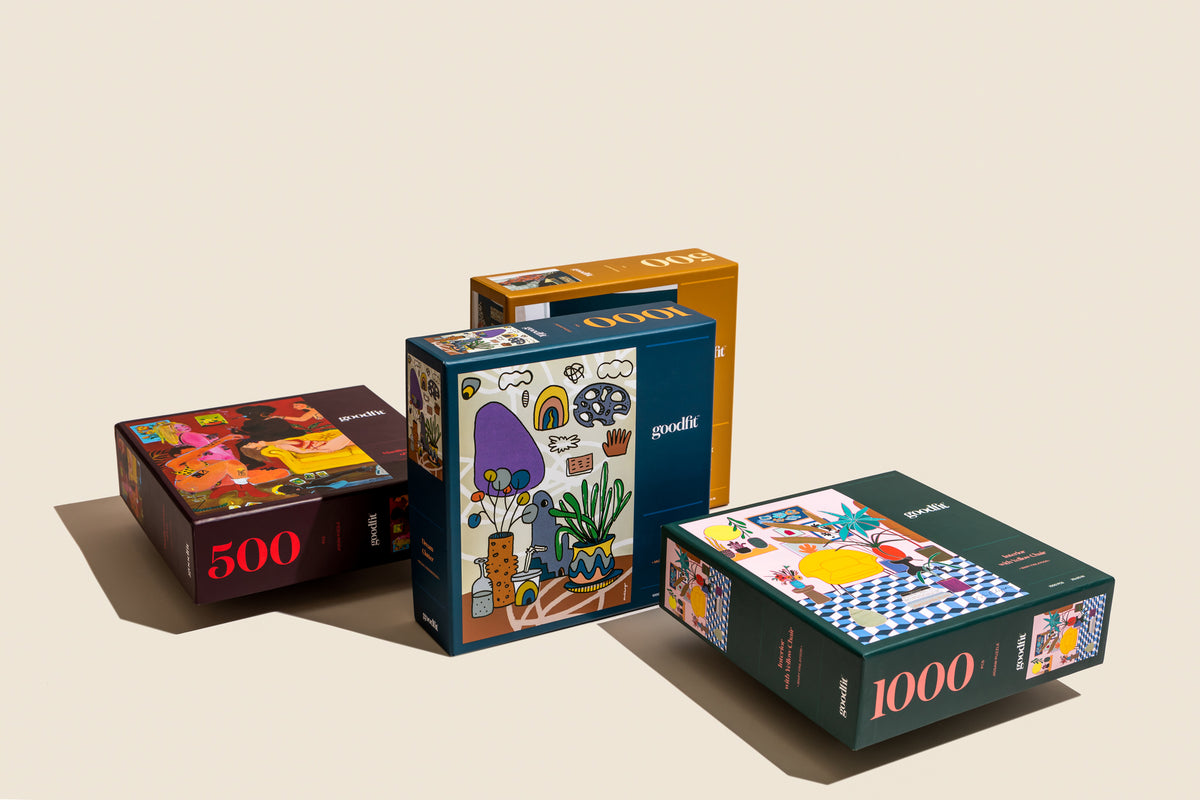 We are absolutely thrilled to introduce Goodfit to the world.


You're among the very first to visit Goodfit! We're still sorting through all the edge pieces which means you may find a few mistakes. If you happen to encounter any, please let us know so we can correct it immediately. We'd also love to hear your feedback and thoughts – especially for the website and product assortment. 


It's been an absolute learning curve for us but we couldn't be any more proud. We know that this moment is special and we'll cherish it forever and we hope that you love what we've created. We also know that this is the first of many milestones but we're just happy that we've made it this far.


Casey and I started Goodfit during the pandemic in early 2020. During lockdown, we, like many others, grew tired of the same routine. Work. Dinner. Walk the dog. Stream. We stumbled upon a puzzle out of pure curiosity and we had blast. That night, we spent hours working together, sorting pieces, finding the edges, helping one another find that ONE PIECE! and we talked about everything and nothing at the same time. We found joy in scavenging for that one small detail that would complete a section.


As the pandemic grew longer and longer, we completed more and more puzzles. It became a nightly ritual we both looked forward to. It was peaceful. It was joyful, it was lovable. We connected to each other in a way that technology simply couldn't do. Soon, most of the puzzles we found were tired old images cut into a thousand pieces. We looked everywhere for puzzles that had the art and subject matter that inspired us. We came up short. 


And that's when Goodfit was created. We know that with the right puzzle, we could spark something in people. That if people could gather around a puzzle and work together to complete it, that they would have similar experiences to what we have. Where people could connect to one another through sincere conversation.


We truly believe that a puzzle is the perfect way to get to know someone all over again. 


We're truly flattered that you have chosen to take a few minutes out of your busy day to browse the result of that deeply personal, intimate experience we had. And if you've read this far, then know we thank you from the bottom of our hearts. To put so much passion into something and have someone receive it such as you are is the greatest compliment we could ever receive.


We've been fortunate enough to put together a selection of puzzles that we believe will spark imagination and start conversation. We are so thankful to the artists and the people who have all believed in our vision – we wouldn't be here without all of you. 


We hope that you'll grow with our brand over the years. We promise to do right by artists and the communities that need our support.


Welcome to Goodfit.


Forever grateful,
Bryan & Casey (& Camden)