Creating Cozy Moments with Alina Bohoru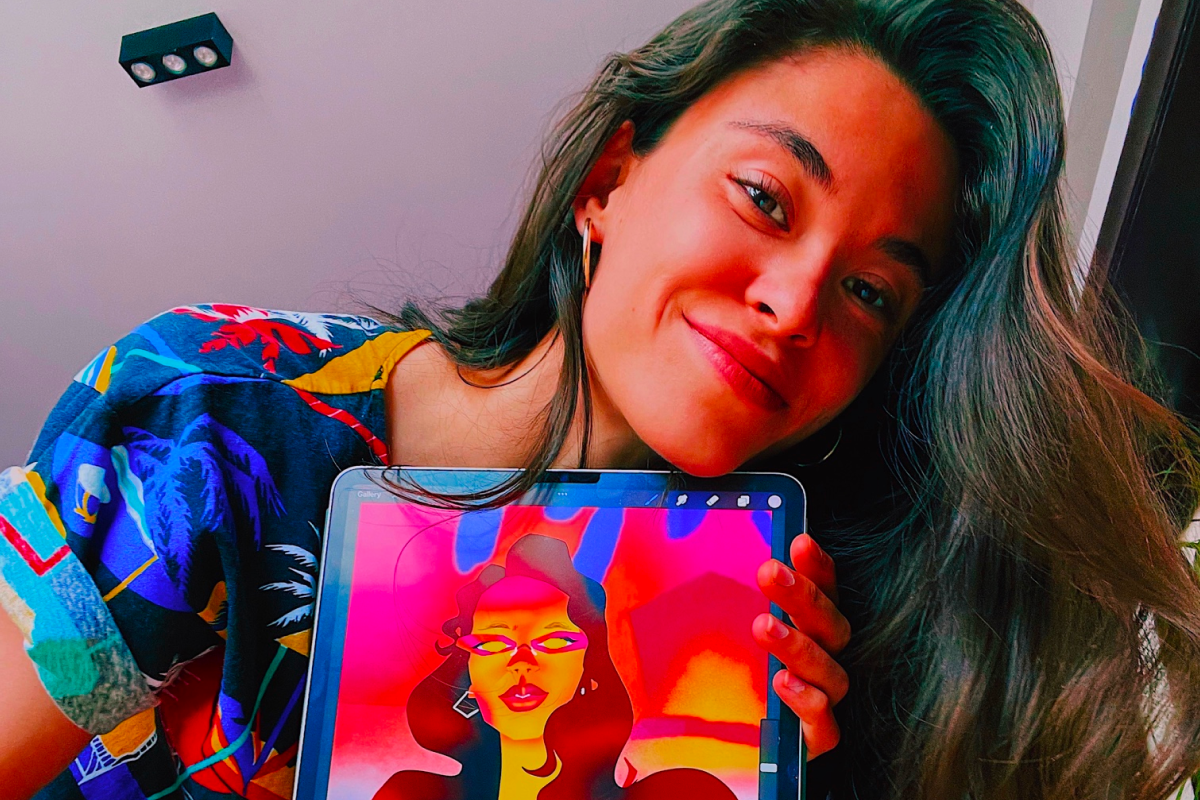 Dive into the creative world of artist Alina Bohoru, who has created quite a following for her warm, vibrant illustrations that feel retro and futuristic at the same time. Alina recently collaborated with us to bring her artwork, "Homebody", to a new form as a 500 piece puzzle. In this artist spotlight, we'll explore Alina's background, her artistic process, and the inspiration that fuels her captivating creations.
Based in Romania, Alina made the move to the capital city of Bucharest around 7 years ago. Bucharest's unique blend of European and Eastern influences, reminiscent of Paris and Istanbul, created the perfect backdrop for her career to flourish.
"I think it's important because I kind of started my career here," Alina explains. She took on a full-time job in illustration, laying the foundation for her freelance career. And, as fate would have it, she was able to establish a creative haven alongside a few designer friends, complete with the company of her feline friend, Gina the cat.
Alina's journey into the world of art wasn't a linear path. She reveals, "I've been drawing since I was a little kid," but she didn't pursue formal art studies in college. Instead, she graduated with a degree in English and German. Despite her parents' initial reluctance to embrace the digital arts as a viable career path, she managed to turn her passion into a profession by posting her artwork online and landing various freelance jobs. Alina's determination and self-taught approach to digital art paved the way for her career. "Technically, I've been working as a freelancer even before graduating, but practically I got my first full-time real job after graduation," she admits.
Alina's artistic style has undergone an intriguing evolution through the years. She began with traditional painting and line art before transitioning to her current style characterized by gradients, bold colors, and the absence of lines.
This modernist approach has been commercially successful for her, yet Alina is always open to exploring new styles. She believes that stepping out of her comfort zone and experimenting with new styles is essential for artistic growth.
Homebody is one of Alina's illustrations that came from her personal portfolio of work. She created it during the COVID-19 pandemic, intending to capture a sense of coziness, warmth, and safety. The illustration features a male figure and a faithful canine companion, both ensconced in a mid-century modern setting, complete with an oversized crackling fireplace. While the male character isn't based on anyone specific, Alina humorously suggests, "I don't know, maybe that's my subconscious male version of me." Homebody is a depiction of her ideal safe space, where serenity and relaxation prevail—a perfect escape from the outside world.
Alina's art draws inspiration from the richness of everyday life. She has eclectic taste in music, with diverse picks ranging from experimental jazz to pop and hip-hop. "I pick and choose from my influences depending on my mood," she explains, and that by itself can influence the direction of her creative work. Fashion inspires her as well, specifically more futuristic styles as of late.
In addition to music and fashion, Alina finds inspiration in architecture, particularly the aesthetics of mid-century all the way up to Y2K styles. Her art is a vibrant fusion of these eclectic influences, with each piece reflecting her mood and the essence of the moment. "A little bit of shininess, combined with organic shapes… it's kind of like a mash up."
As the holiday season approaches, we were curious about how Alina celebrates the winter and holidays. Alina's approach is refreshingly uncommercial, focused on simplicity, quality time with loved ones, and the joy of being indoors: "I like sticking to the simple and fundamental idea of spending time inside, resting," she says. She prefers the idea of creating a serene, cozy atmosphere, rather than getting caught up in the commercial frenzy often associated with Christmas.
Alina's "Homebody" perfectly encapsulates this desire for a warm, safe space. It's a reminder of the simple joys of spending time with loved ones, enjoying a warm beverage, and cherishing the moment in a tranquil setting. We hope that this puzzle will transport you to a place that reflects this cozy feeling.
Follow Alina Bohoru's Instagram
@alinabohoru
.