From Denver with Love with Rachel Jablonski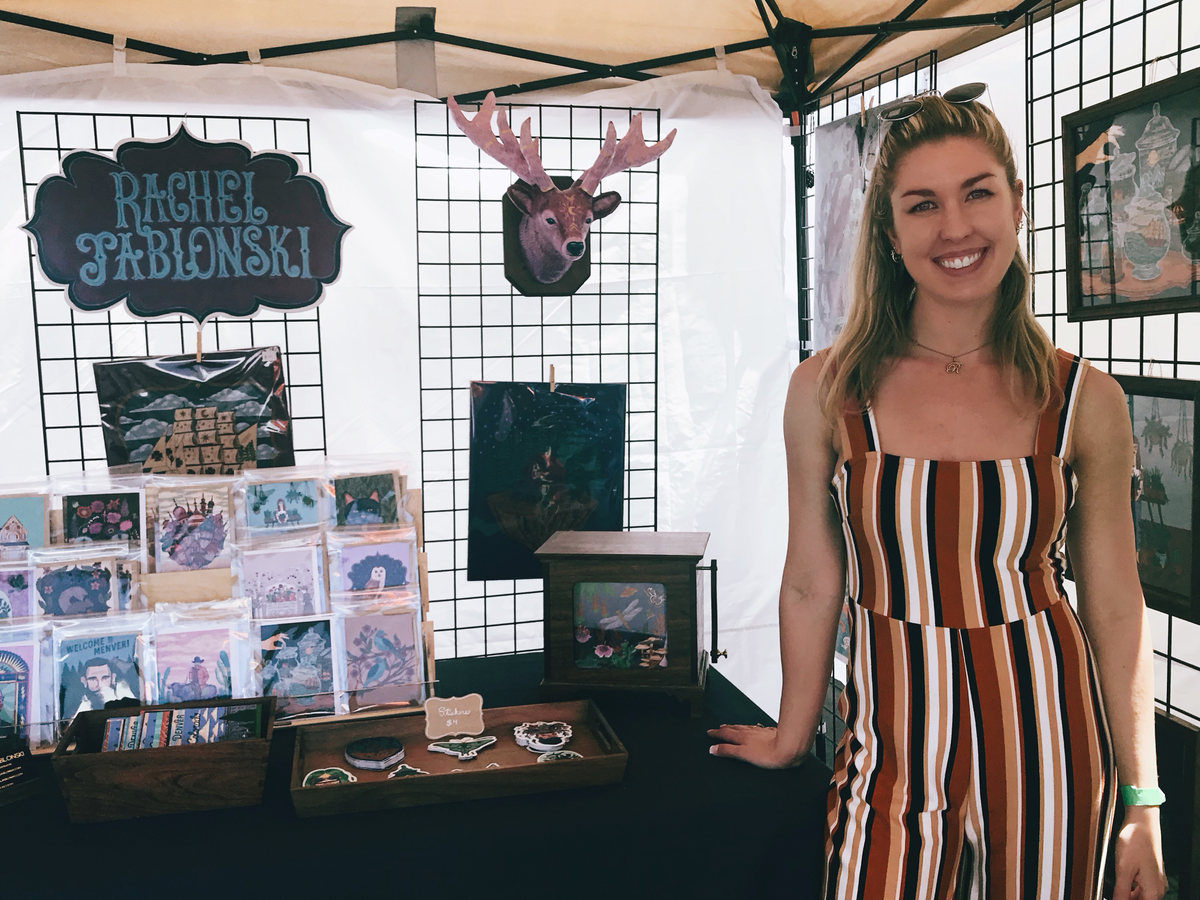 Rachel Jablonski's Taco Truck exudes the warmth and spirit of the American West - a region Rachel is quite familiar with, being originally from Houston and now residing in Denver, Colorado.


We met Rachel and fell in love with her richly colored, moody illustrations at a local maker's market here in Denver. It's a fitting place to have been introduced to her work, because the local Denver art community is an integral part of Rachel's story as an ever-evolving artist.


Originally enrolling at the Rhode Island School of Design for fashion design, Rachel ended up pivoting to drawing after a teacher gave her the feedback that she was more suited for art than fashion. The advice was tough to hear, but set her on a path forward: "It allowed me to cultivate my drawing skills… and as a young artist, I definitely had to find my style of illustration. Going to art school was really beneficial, because they get you to try out a bunch of different styles and then guide you towards what works."


Rachel moved to Denver after graduating from RISD, and quickly found herself meeting others in the local art scene. Looking to meet fellow creatives, she signed up for a drink & draw program, and rented out a studio space with a friend shortly after. From there, she met a mentor along the way who introduced her to local art shows and makers markets in Colorado. "The community here is amazing - so friendly and inclusive."


Fast forward a few years, and Rachel is continuing to hone in on her skills and unique style of illustration. Lately, that looks like moody dreamscapes that provide a glimpse into windows of little magical worlds. She draws her inspiration from the Pacific Northwest, intense greenery, and moths - "I like how intricate they are - they're kind of like the butterfly's weirder cousin." Over time, Rachel has perfected her process of starting with an inspiration board to think about the mood, vibe, and concept.



After creating an intricate sketch with pencil and paper, she hand draws over the top using pen and ink, then digitally colors her pieces for a finished result that's rich and vibrant. "I'd describe my style as dreamy, whimsical, and a little bit surreal." She notes that for other aspiring artists, it's important to continue evolving to find what you love: "Try everything, and then whichever feels the most like you, and the most true to yourself, do that." 


Rachel resides in Denver, Colorado and her favorite item to order from a taco truck is a breakfast taco.